Fall finally arrived in Houston. After one of the hottest summers on record in Texas, the cooler temperatures are welcome.
With fall came the return of the seasonal food marketing craze: pumpkin spice.
The charge was led by the PSL, the hip term for the ubiquitous pumpkin spice latte.
But that's not all. There are pumpkin spice donuts. Pumpkin spice ice cream. Pumpkin spice pretzels. Pumpkin spice dip. Pumpkin spice English muffins. Even pumpkin spice Twinkies and pumpkin spice Cheerios.
With a notable exception, though, which I saw in Chipotle last week.
Chipotle made it clear that their menu has no need for pumpkin spice, as you can see from their hilarious gift card.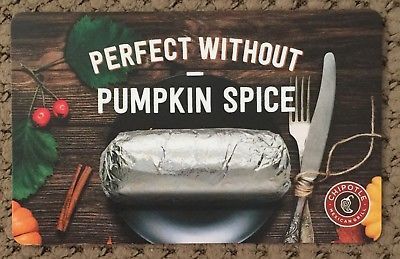 Even though I'm not crazy about pumpkin spice, fall is my favorite season.
I love donning a hoodie and going on a brisk walk. Or pouring a cup of hot (non-pumpkin spiced) tea and curling up with a blanket and a good book.
I've read some great reads in recent weeks, so thought I'd share what's been on my digital and print book list.
I Dared to Call Him Father: The Miraculous Story of a Muslim Woman's Encounter with God by Bilquis Sheikh
I've been learning more about the persecuted church and came across this book. It's a powerful testimony to God's work in Pakistan during the 1960's and 1970s. It also helps show how the country has become more and more oppressive to Christians.
Saving My Assassin by Virginia Prodan
I had the opportunity to meet this book's author a few weeks ago and couldn't wait to read her book. It reads like a political fiction thriller, but praise God, it's a true story. Here's a snippet from the back: "I should be dead. Buried in an unmarked grave in Romania. Obviously, I am not. God had other plans." (Content note: I don't think the author intended it disrespectfully, but there is a mention of taking God's name in vain.)
Walking in the Dust of Rabbi Jesus: How the Jewish Words of Jesus Can Change Your Life by Lois Tverberg
I'm not finished with this book yet, but I am enjoying my time spent in its pages. Ray Vander Laan, who wrote the foreword, has helped grow my understanding of Jesus and His Jewish culture, so this was a must-add to my book list.
Love Worth Finding: The Life of Adrian Rogers and His Philosophy of Preaching by Joyce Rogers
Am I the only one who has multiple books going at a time?!!? I'm still finishing this book, but it's been a fascinating look at one of my favorite preachers, written in part by his wife. I'm especially looking forward to the part about his preaching style and preparation.
Our newsletter will help you grow your Christian business or ministry online:
Disclosure: Some of the links on our website are "affiliate links." This means if you click on the link and purchase an item, we will receive an affiliate commission. We only recommend products or services that we feel will add value to our followers. We are disclosing this in accordance with the Federal Trade Commission's 16 CFR, Part 255: "Guides Concerning the Use of Endorsements and Testimonials in Advertising."